On Wednesday 29 August 2018, Matt and I dived in the channel between Olevugha (Sandfly) Island and Mangalonga Island in the Western part of the Florida Islands. Of course, we were looking for a plane, but weren't precisely sure of it's location. This was not a known dive site. How deep did it go here ? I wonder what currents we would encounter? Was there a slope or a cliff under the surface? The day was bright and beautiful. Calm and clear. We descended down and in the pre-dive plan I suggested we descend to 24 meters and keep well off the bottom but keep it in visual range and do a visual search down the seafloor. I know from experience that in the clear waters of the Solomons, anything less than 24 m (sometimes more) can be seen from the surface and would be precisely known by nearby villagers. We descended down and the conditions were perfect. I kept going to 30m. Matt was wondering what I was doing…I searched down the slope perhaps 45-50m below. It was coral sand. You can really cover a bit of ground visually like this.
Matt and I swam along, scanning seafloor. After about 9 mins of gentle swimming, I thought I better start turning in and get shallower…I saw a dark circular lump sitting on the sand…was it a radial engine ? It had an odd shape to it…no, it was a rock. I was a bit bored, so swam towards the rock…an eagle ray swam off to the right, flapping away, I pointed towards it, indicating it to Matt. I studied the rock, dreaming it was a Pratt & Whitney…
I looked up slope, and there was the dark outline of a whole plane sitting on the white / rubble sand. I nearly choked on my regulator!. WOW!!! WOW!! I turned back to look at Matt and vigorously pointing but he had actually seen it before me. He was really perplexed at why I was pointing out a stingray when there was a whole plane sitting in front of eyes! Apparently according to Matt, my eyes were wide as saucers at this point. !! The thrill of discovery was just pure happiness! I descended down to the plane and Matt came up and we "high -fived". The site was really beautiful in the clear water. A big hump-head parrot fish floated around, and two small dog-tooth tunas swam past. What a site! I recognized an American Wildcat fighter upside down. It was very complete and undamaged. The plane rests down a slope, nose down. A pitot tube on the port wing tip is beautifully intact and a couple of inches off the sandy seafloor. There is oil coolers prominent on the wings. The tail hook is there and retracted fully. The life raft bay is open on the starboard side of the rear fuselage (in the 'turtle back'). The wheels are very intact and tires still inflated. The tire on the tail wheel is missing. There appears battle damage in the side of the port rear fuselage. A small 30cm high triangular opening is the only hole into the cockpit which is pressed against the sand. The cockpit enclosure is open (retracted). There is folds in the wing. So, this is a Grumman F4F-4 Wildcat. The shallowest point on the site is the tail wheel at 36.5m. The deepest point is the pitot tube on port wing at 41.1m
I did a visual check of the sand near the cockpit on the port side and saw no human remains.
It was just magnificent to swim slowly around and take it all in. I was looking for interesting nique features and comparing it to the other six Wildcats I have surveyed in the Solomons…
Matt got though his air contents pretty fast (I was struggling to control my gas consumption too) and departed. After a couple extra precious mins, I made my way up the nearby coral reef which was very nice. I relaxed at 18m depth looking at the myriad of complexity in the reef when a jolt on my shoulder…it was Bob Norton, our boat/dive/hotel operator! Matt had obviously announced the news back on the boat! He shook my hand in congratulation and there was much excitement, and he was just dying to see the plane; I would have to guide him back down!. But I had little air! I went down a little, pointing the way and swam out, but maintained my depth. The water was so clear there really wasn't any trouble for Bob finding the aircraft again…I turned back without seeing the plane again, I got closer enough for Bob and he shot down. He wasn't expecting us to find an aircraft so he had no shirt on and no dive timer! he wasn't long and he joined back up with me during my decompression. Soon we were back on the boat in the tropical bright sun on a flat, deep azure sea.
Well, I hope I have managed to convey just 5% of the excitement we had on that dive!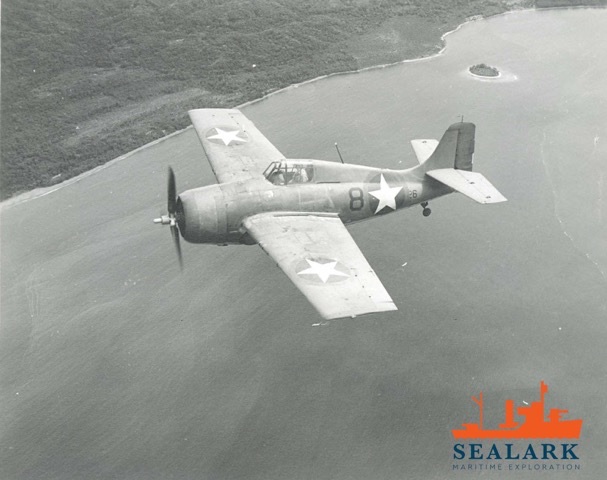 This is a Navy F4F-4 flown towards the South East by Lt. (jg) John Carlos Cleves Symmes of VF-21 over Guadalcanal near Kaukau Bay, East of Henderson Field in July 1943. The small island is Taluto'o. Note the pitot tube in left wing tip. Looks like a squadron insignia painted just under the front cockpit on the instrument access door, but I have not been able to figure out the insignia.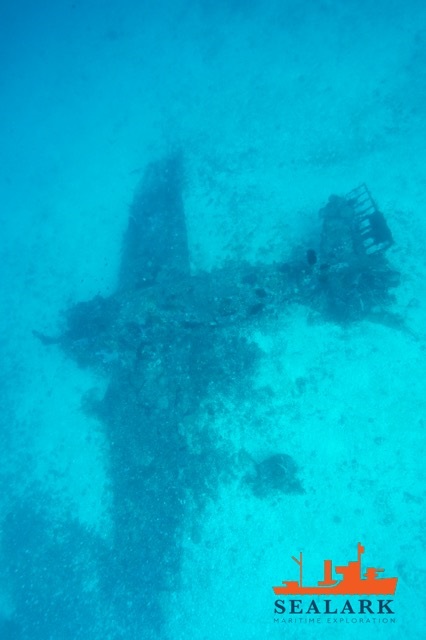 This was how Matt and I first saw the plane—unmistakable! Photo date : 30 August 2018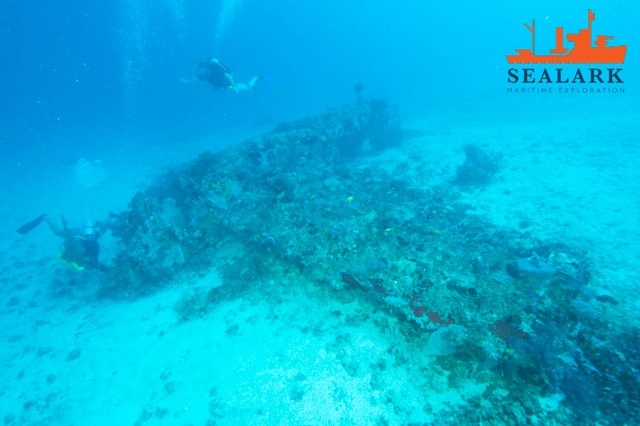 All photos by Ewan Stevenson and uw are 30 August 2018. There is so much Marine growth on the plane, it's hard to make out details. Yvie at the prop is setting up a SMB to shoot to gain a precise GPS mark. Matt Wray higher up is acting safety diver, keeping an eye on things.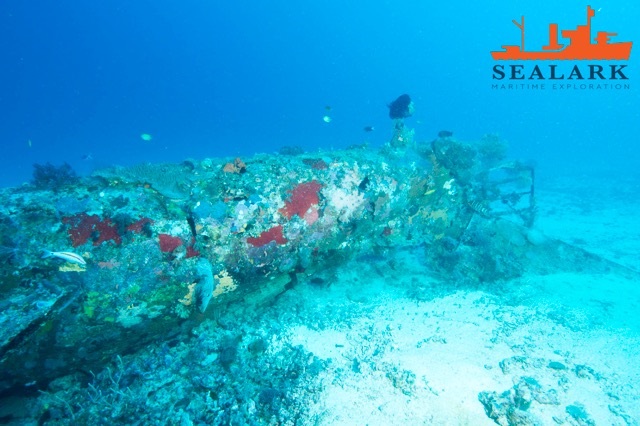 Right side rear fuselage. Near the seafloor in the turtle back, the life raft bay is open and raft gone. Indicates this pilot used it and probably survived as the shore is 250? feet away. Research is underway to try and link location with a historical account but it is not easy! The most visible damage was the starboard horizontal stabilizer you see here which has collapsed to the seafloor. 
*******************************************************
Please see more photos of the new Wildcat on our Instagram page , see "Sealark Maritime Exploration"
Please follow us. We also discovered a new PBY-5 Catalina site and will post it on Instagram first.
There is also more about us on our website www.sealark.co.nz
We also have a facebook page (still working on that one).
Whilst we explored the Tulagi area, we stayed at Bob Norton's "Raider's Hotel". It's built on Tulagi Island shores, right on the edge of the sea. The dive boat is parked next to the restaurant and bar! The diving is so easy..wrecks such as USS Aaron Ward, USS Kanawha, HMNZS Moa, and numerous aircraft are just a few mins boat trip. And of course the new Wildcat we found! Bob can take you straight there….another very intact Wildcat was found four years ago and is about 200m from the Hotel bar! The dive boat reaches it in about 60 seconds…Bob is a New Zealander and with his partner Yvie run a very friendly , chilled-out, personal service hotel.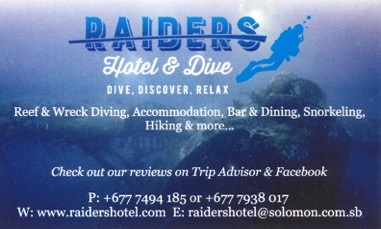 There is so much to do on Tulagi and in the area, you just don't have enough time. It's very unexplored, and as the tourist numbers are low, you have the whole place to yourself. It's awesome.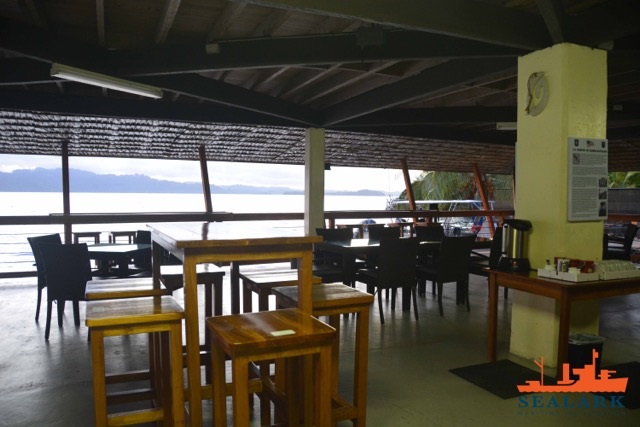 Raider's restaurant looking out over Tulagi harbour full of WWII wrecks and planes.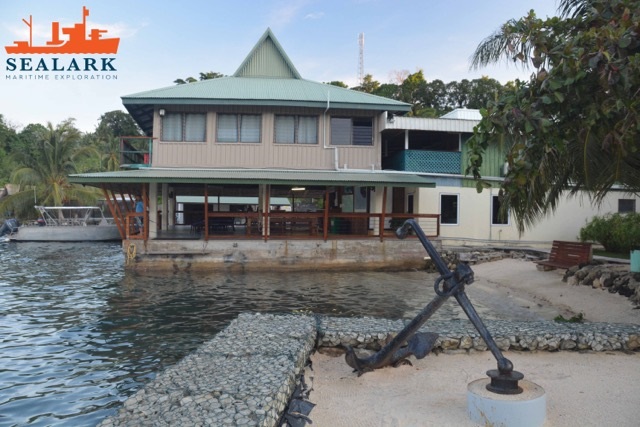 Raiders Hotel is on the sea edge! That's Bob's dive boat tied up on the left.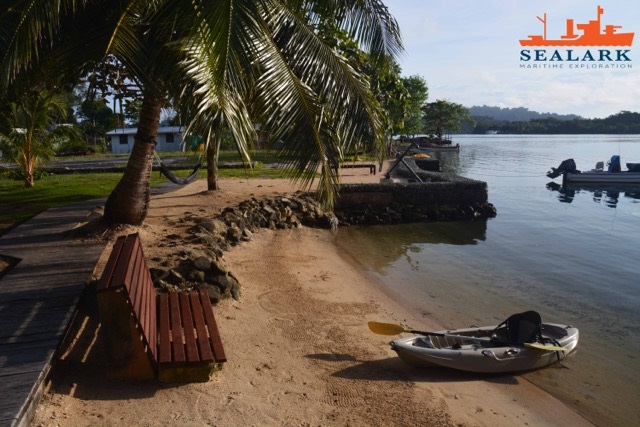 The hotel view looking West. Hotel staff got the kayak out, ready for a guest this morning but the guest was so relaxed they never used it that day. The kayak just stayed there all day. It's very calm, warm and peaceful.
There are WWII bases that have never been explored in the area, crashed WWII planes in the nearby jungle, fishing, exploring the old British Empire capital of the Solomons, Japanese gunmounts, ammunition, war relics in the grass, Japanese wartime caves, etc, etc. You don't have to be a WWII buff– there is nice walking on Tulagi and beautiful coral snorkeling nearby… Bob is very enthusiastic about showing it all to you or you just do your own thing. Tulagi is a very peaceful, relaxing, kinda place. Bob comes over to Honiara in the boat and collects guests from there.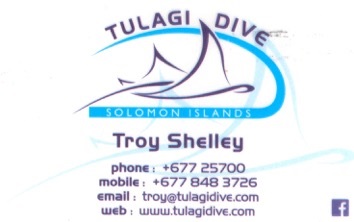 We also did some wreck diving on Guadalcanal and dived with Troy Shelley of Tulagi Dive which is actually based in Honiara. Troy knows all the wrecks on the Guadalcanal side really well and also runs day trips etc to Tulagi too.
Ewan Stevenson