"THE LODGE" at Sanbis Resort. It is an absolutely beautiful and exclusive complex located at the very end of our island – about 250 metres from the existing Bar/Restaurant.
The Sunrise and Sunset can be viewed from the same vantage point with an approximately 300 degree view!
The Lodge consists of a main building that has three split levels with a living/entertainment area with TV screen, Hi-Fi and wireless internet. A level lower is a "mini kitchen" with dining area a level further down, is a lounge and a sun deck with BBQ facilities and a 6 person Spa bath. A fridge with ice maker is restocked daily, a bit like a mini bar.
Immediately next to the main house are two fully air-conditioned bungalows with ensuite bathroom and small veranda overlooking the lagoon and several islands. Fluffy towels and Egyptian Cotton sheets are standard.
A private jetty is in line with the main building and a boat is provided with the rental of the Lodge for exclusive use by the guests, giving "The Lodge" residents the freedom to explore parts of the Gizo lagoon.
An absolutely idyllic place for two couples or a family with two elder children (or even a few "blokes"!… for a fishing or diving holiday – the bungalows are big enough to add a couple of single beds also). The rental of the Lodge is AU$1,000 (including a small, self-drive motor boat), per night with a minimum stay of 3 nights (plus fuel used for the boat).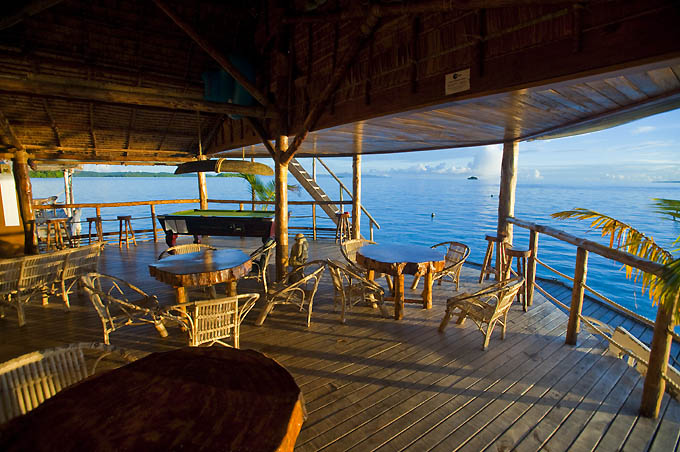 Contact Details
Gizo, Western Province, Solomon Islands